« Shows & Personalities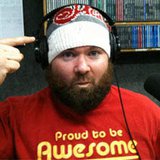 Justin "The Big Deal"
On Air:

Weekdays, 10am - 2pm; Sunday, 2pm - 8pm
Is that "The Big Deal"? or Zac Brown?

During the springs and summers of his youth "The Big Deal" was raised on a fishing boat in Northern Minnesota, then the pheasant-filled fields of Southern Minnesota during the fall. Winters were spent with an ice auger, a fish house and a wet line- and all that time Justin was fed a steady diet of classic country music. If there is one thing "The Big Deal" loves, it's country music- and spending his free time outside enjoying Minnesota...okay, that's two things...

"The Big Deal" is a gypsy of sorts, moving from place to place across this great country- from the Deep South of Burnsville to the West Coast (Fargo/Moorhead). From the metropolis that is Minneapolis to the Northern Rim (Fridley) and finally the mighty Northland. Along the way he saw many things, met some people, married a beautiful woman, befriended a pack of wild animals, had an adorable baby girl and dreamed of someday hosting his own radio program. After attending Brown College and bribing enough instructors to get through- "The Big Deal"used Jedi powers to con people much smarter than he into letting him appear on the best country music station in the state (possibly world, maybe even galaxy).

"The Big Deal" now attempts to fill the midday void between Scott Hanson and Jessie B. Hawkins...oh, and because he has a social life he comes in Sunday's too. A few Fun facts that may help you better understand the enigma that is "The Big Deal". "The Big Deal": -Once fit 14 kernels of corn into his cavernous belly button. -Once ate 5 BK Whoppers on a bet- he won only the price of the 5 Whoppers (and a satisfied belly). -Once consumed 2 Footlong Subway Meatball Sandwiches in 2 minutes on a bet (again, he received the sandwiches for free). -Loves all things Minnesota Sports...even though the Vikings are terrible. -Hates all things Wisconsin Sports. (Dirty Sconnies...) -Thinks Caddyshack is the funniest movie of all time. -KNOWS The Simpsons is the greatest TV show in the history of the planet (if you say Family Guy is better you need psychiatric help). -Plays guitar poorly but thinks he gets better as it gets later. -Secretly loves bluegrass and wishes he was good enough to pick along. -Hopes he is as hunky as Scott Hanson when he gets to be that old.