« Shows & Personalities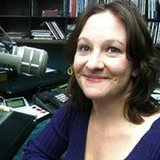 Jessie B Hawkins
On Air:

Weekdays, 2pm - 7pm; Saturday, 1pm - 6pm
Jessie B gets you through your afternoon and takes you home on your drive at 5 with all your favorite country songs. Check out Jessie's Ramblings for fun videos, artist information and rambling nonsense!

She loves interacting with listeners so feel free to email or FB Jessie.

Jessie was born and raised on the range in Embarrass Minnesota and now lives in Chisholm.

Her loves are: her son, her cats, music, crime drama and movies. Her friends nicknamed her the crazy cat lady when she rescued an abandoned cat and it turned out the cat was expecting.

Jessie sings in a band called, "Unsupervised".

Favorite artist: To many to name! I love pretty much all the country singers from the 80's to today. Toby Keith, Florida Georgia Line, Taylor Swift, Blake Shelton and Miranda are her current fav's.