« Shows & Personalities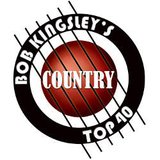 Bob Kingsley's Country Top 40
On Air:

Sunday, 8am - Noon
About the Show

Every time he gets in front of the microphone, Bob Kingsley adds to his status as the most listened-to radio voice in country music history. The Host and Executive Producer of Bob Kingsley's Country Top 40, far and away the most successful show of its kind, has been the king of the country countdown for three decades now, and to hear him tell it, the process retains every bit of its magic.

Bob's love for the genre, its people and its history has always been evident in that warm, rich voice, and the combination has given him both a vast, loyal audience and legendary status within the industry. He has twice been named the CMA's National Broadcast Personality of the Year and his show received Billboard's Network/Syndicated Program of the Year award no fewer than 16 times. Bob also received the ACM's National Broadcast Personality of the Year Award in 2007 and has been voted National Air Personality of the Year for the three past years by Country Radio Broadcasters and Country Aircheck. He was chosen as the recipient of the 2012 President's Award by the CRB and, perhaps most tellingly, he was inducted in 1998 into the Country Music DJ Hall of Fame.

Bob has long been dedicated to serving the industry as a whole, having been for many years a member of the board of directors of the Academy of Country Music. He has also given tireless service to veterans' groups and the VA itself. He served as Master of Ceremonies at the National Veterans Day Ceremonies at Arlington National Cemetery in both 2004 and 2005, one of many national and regional events to which he has volunteered time and energy, and he has helped get information on benefits to countless veterans through vehicles like his Veterans Day 2005 radio special, "Bob Kingsley Salutes America's Veterans." More recently, he was the recipient of the Wounded Warrior Project's Tony Snow Award for the significant difference he has made in the lives of injured servicemen and women. His many charitable endeavors include work for Disabled American Veterans, the Dept. of Veterans Affairs, the Wounded Warrior Project, The Palliative Unit of Cook's Children's Hospital in Fort Worth, and St. Jude Hospital. An avid cutting horse enthusiast, he lives and works in Weatherford, TX.