Profiles
Staff and Shows
Scott invites you to start your day listening to Radio USA! Catch the joke to get you going at about 6:10am, 99 second news updates, up to the minute weather, sports, great prizes and a whole lot of fun!! Call us at 1-866-873-0965.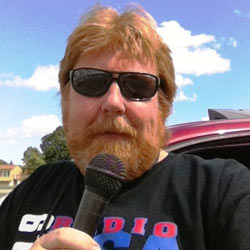 Is that Justin? or Zac Brown? During the springs and summers of his youth Justin was raised on a fishing boat in Northern Minnesota, then the pheasant-filled fields of Southern Minnesota during the fall. Read More
Winters were spent with an ice auger, a fish house and a wet line- and all that time Justin was fed a steady diet of classic country music. If there is one thing Justin loves, it's country music- and spending his free time outside enjoying Minnesota...okay, that's two things... Justin is a gypsy of sorts, moving from place to place across this great country- from the Deep South of Burnsville to the West Coast (Fargo/Moorhead). From the metropolis that is Minneapolis to the Northern Rim (Fridley) and finally the mighty Northland. Along the way he saw many things, met some people, married a beautiful woman, befriended a pack of wild animals, had an adorable baby girl and dreamed of someday hosting his own radio program. After attending Brown College and bribing enough instructors to get through- Justin used Jedi powers to con people much smarter than he into letting him appear on the best country music station in the state (possibly world, maybe even galaxy). Justin now attempts to fill the midday void between Scott Hanson and Jessie B. Hawkins...oh, and because he has a social life he comes in Sunday's too. A few Fun facts that may help you better understand the enigma that is Justin. Justin: -Once fit 14 kernels of corn into his cavernous belly button. -Once ate 5 BK Whoppers on a bet- he won only the price of the 5 Whoppers (and a satisfied belly). -Once consumed 2 Footlong Subway Meatball Sandwiches in 2 minutes on a bet (again, he received the sandwiches for free). -Loves all things Minnesota Sports...even though the Vikings are terrible. -Hates all things Wisconsin Sports. (Dirty Sconnies...) -Thinks Caddyshack is the funniest movie of all time. -KNOWS The Simpsons is the greatest TV show in the history of the planet (if you say Family Guy is better you need psychiatric help). -Plays guitar poorly but thinks he gets better as it gets later. -Secretly loves bluegrass and wishes he was good enough to pick along. -Hopes he is as hunky as Scott Hanson when he gets to be that old.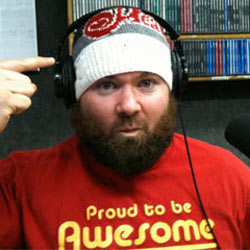 Jessie B takes you home with all your favorite country songs and great info about your favorite country artists. Check out Jessie's Ramblings. Read More
She loves keeping her listeners in the loop and entertained. Jessie was born and raised on the range in Embarrass Minnesota, the cold spot with the warm heart. She grew up entertaining folks being silly, singing and attempting to impersonate Jim Carrey. She fronts the blues and rock band Shakedown. Her loves are music, comedy, and movies. (Need a movie review? She's seen em all - no joke!). Her favorite movie is always changing but for a long time it's been a toss between X-men and The Usual Supspects. Present favorite song: "anything from Toby Keith and/or Rascal Flatts." Favorite Food: Anything Vendor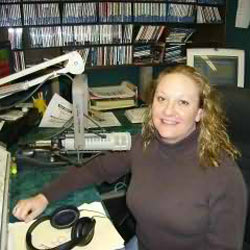 AJ entertains you in the evenings with more of your favorite country songs! AJ knows music. Enjoy the best Country Music in Northern Minnesota evenings with AJ!
Blair Garner is the host of After MidNite with Blair Garner. He's one of the most successful air personalities in the country, winning the Academy of Country Music's On-Air Personality of the Year award in 2004 and having been nominated countless times for others... Read More
including the prestigious Marconi Award and for Nationally Syndicated Air Personality by Billboard.
Blair Garner hosts the highly acclaimed Country radio show After MidNite, a six-hour nationally syndicated program that airs on more than 260 affiliates, including WXTU-FM/Philadelphia, WKLB-FM/ Boston, WMZQ-FM/Washington, D.C., KSD-FM/St. Louis, WUBL-FM/Atlanta, KNIX-FM/Phoenix and WPOC-FM/Baltimore. Garner's recognized as one of the nation's leading on-air hosts with an interview style that generates unique content by putting the artists at ease, engaging them in a conversation rather than an interview. This has resulted in recognition every year from the Academy of Country Music, Country Aircheck, Country Music Association and the Country Radio Broadcasters. In 2010, 2006 and 2004 Garner won the Academy of Country Music's On-Air Personality of the Year Award in the national category. In addition, he celebrates his 18- year anniversary in national syndication in November, 2011. Garner's popularity is attributed to him keeping his show fresh and entertaining with guests including Miranda Lambert, Blake Shelton, George Strait, Garth Brooks, Tim McGraw, Carrie Underwood, Reba McEntire, Taylor Swift, Martina McBride, Faith Hill, Toby Keith, Kenny Chesney, Rascal Flatts, Lady Antebellum, Alan Jackson, Keith Urban, Sara Evans, Gwyneth Paltrow, Joan Rivers and Valerie Bertinelli. Garner started his radio career in Canyon, Texas, later moving to Dallas to work at KAFM-FM, then to Washington, D.C.'s WASH-FM. From there, he moved to Houston to work at KKBQ-FM. Months later, WPLJ-FM in New York recruited Garner as their afternoon-drive host, where he was named among the top ten most-listened-to disc jockeys in America. Garner then moved to the West Coast and worked as the afternoon- drive personality for KIIS-FM in Los Angeles. After having ratings success in five of the top 10 markets, Garner created After MidNite, which was purchased by Premiere Networks in 1997. This Canyon, Texas, native graduated from the University of Texas with a degree in Advertising. Garner and his family reside in Nashville, Tenn. He prides himself in his car collection. He bought his first car when he was 12 years old and, to date, has owned and renovated more than 70 cars. He is an avid supporter of charitable causes including the T.J. Martell Foundation and City of Hope.