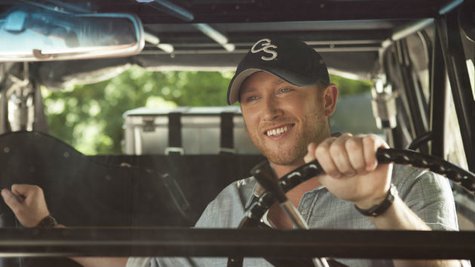 Cole Swindell shows off a few smooth moves in his video for "Chillin' It," but the Georgia native insists he's just having a little fun in front of the camera.
Cole tells ABC News Radio, "I think that's just proof that I like to just have fun up there and do what I'm feeling, because I am not much of a dancer, obviously."
Cole is currently opening for his pal Luke Bryan , who is filling arenas and stadiums thanks to his dance moves as well as his hit songs. Cole isn't sure he wants to do quite as much on stage gyrating as Luke, though.
"I'm just a guy out there trying to sing and have fun," Cole says. "I think that shows off my personality. So, we'll see if I need to tone that down some. I don't know."
As for the song, "Chillin' It," Cole was inspired to write it after overhearing someone use that phrase in conversation.
He explains, "I just thought, sounds like something I could write a laid back song to. It just sounded like a song about riding around with your girl, just lazy -- lazy afternoon song. So, that's what we did."
"Chillin' It" is included on Cole's self-titled debut album, now in stores.
Copyright 2014 ABC News Radio