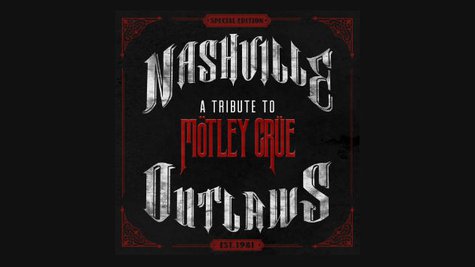 Florida Georgia Line , Darius Rucker , Brantley Gilbert and several other country stars salute heavy metal legends Motley Crue on the new tribute album, Nashville Outlaws . The project is in stores and online Tuesday featuring the lead single, Justin Moore' s collaboration with Motley Crue's Vince Neil on "Home Sweet Home." Even though it has a rock edge, Justin says, "This sounds like a Justin Moore song. I mean it doesn't matter where the song originated from whether it was rap or rock or pop or country or whatever, this song is right down, you know, my wheelhouse."
Florida Georgia Line took on the Crue song "If I Die Tomorrow" for the project. Looking back on their recording session for that song, FGL's Brian Kelley says, "[It was a] pretty cool experience to be a part of that album. It felt like magic that day we were in the studio."
Rascal Flatts contributed a version of "Kickstart My Heart," and the band's Jay DeMarcus was very impressed with lead singer Gary LeVox' s vocals on the song.
Jay tells ABC News Radio, "Gary was the perfect singer for that song, too, because not a lot of people can scream and sing as high as Vince Neil did, you know."
Jay goes on to say the Flatts put their own stamp on the song. He explains, "The rule of thumb usually is, if you can't outdo the original, you shouldn't touch it."
Darius Rucker didn't even try to compete with the Motley Crue's version of "Time for Change" when he went in to record it for Nashville Outlaws .
"We said we're gonna start this record like we've never heard the song before," Darius says. "You know, we pretended we didn't know it, and just went down to the basics and came up with something that I'm really proud of."
Cassadee Pope , Eli Young Band , LeAnn Rimes and Big & Rich are among the other artists featured on Nashville Outlaws .
Follow @ABCNewsRadio
Copyright 2014 ABC News Radio