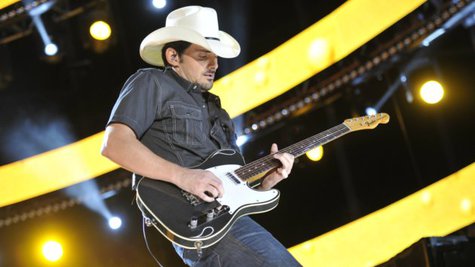 Of all the personal heroes Brad Paisley has been able to meet and work with, he says there's still one wish that's gone unfulfilled.
"I sure love Eric Clapton and one of these days would love to play with him. I haven't done that yet," Brad reveals.
Brad recently missed a chance to work with the rock legend, when he was asked to perform at Clapton's annual guitar festival.
"I was invited to do Crossroads Festival this year, and I couldn't do it. But one of these years I hope to," Brad says, admitting "I've never even met him. So that would be top of mind right now as far as people I haven't met."
Odds are Brad will eventually get his wish. Vince Gill , Sheryl Crow and Alison Krauss & Union Station have all worked with Clapton in the past.
Copyright 2013 ABC News Radio