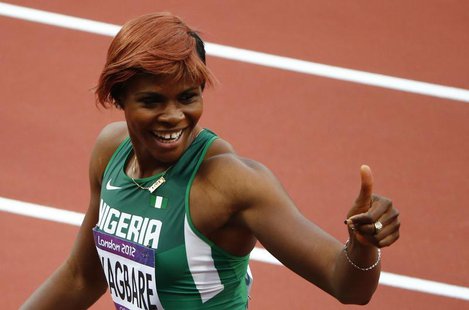 By Alison Wildey
BIRMINGHAM, England (Reuters) - Double Olympic champion Mo Farah produced a stunning sprint to take the 5,000 meters in Birmingham on Sunday as a host of London Games winners struggled to find the form that propelled them to victory last year.
Farah was locked in battle with Ethiopian Yenew Alamirew around the final lap of the Diamond League event but the Briton kicked hard over the final 200 meters, bringing the cheering crowd to its feet as he crossed the line in 13 minutes 14.24 seconds.
"It was important that I won the race. The conditions were tough today," Farah told reporters after a much slower lap of honor where fans were treated to his 'Mobot' celebration.
"It was a tough field so I'm really pleased I came through it with a victory. It's important that I keep working hard now and get ready for the world championships.
"Training is going well so I'm quite confident now," added the 30-year-old who trains in the United States.
While Farah showed he is still the distance runner to beat ahead of the world championships, there were some timely reminders from the some of the nearly-rans that the big names would not necessarily have things all their own way in Moscow.
Olympic 100 meters champion Shelly-Ann Fraser-Pryce suffered an upset over 200, with defeat to Nigeria's Blessing Okagbare.
JETER INJURY
The race had been billed as a clash between Jamaica's Fraser-Pryce and world 100 champion Carmelita Jeter of the U.S. but Okagbare finished strongly to win in 22.55.
Fraser-Pryce, who plans to run the 100 and 200 at the world championships, was second in 22.72 with Jeter, competing for first time since suffering a hamstring injury in Shanghai in May, finishing last in 23.36.
Jeter walked straight past waiting reporters but training partner Okagbare did not think the American's performance was cause for concern.
"She's fine. You saw her run today so you can tell for yourself," the Nigerian told reporters. "It's good she's come back.
Jamaican Nesta Carter took the men's 100 in the absence of his better-known compatriots Usain Bolt and Yohan Blake, winning in 9.99.
Sprint hurdles champions Sally Pearson and Aries Merritt were both on the comeback from injury and showed there was still some work to be done.
Pearson, who returned to action only last Thursday, lacked her usual speed between the barriers and was fourth in a strong 100 hurdles field behind Dawn Harper-Nelson, who won in 12.64.
World 110 hurdles record holder Merritt was not too disheartened by his second place to Ryan Braithwaite of Barbados who won in 13.13.
YELLOW HEADBAND
"I think it went well, I am fresh of the plane. I haven't had much training so I am going to be racing myself into shape ahead of the world championships," said Merritt, also coming back from a hamstring injury.
Olympic bronze medalist Javier Culson turned the tables on the men who beat him in the 400 hurdles final at London 2012 with a comfortable victory in 48.59.
Puerto Rican Culson, easily identifiable in his bright yellow headband, finished strongly ahead of Britain's Rhys Williams as Olympic silver medalist Michael Tinsley suffered his first defeat of the season in third.
Olympic champion Felix Sanchez faded to seventh while Britain's world champion Dai Greene, who had surgery on a double hernia in March, was fifth.
There was also a first defeat of the year for Botswana's world 400 meters champion Amantle Montsho, who was piped on the line by 2008 Olympic champion Christine Ohuruogu after a customary late charge from the Briton.
Ohuruogu appeared to be pushed to the line by the roar of the sell-out crowd at Alexander Stadium as she won by 0.01 seconds in 50.63.
American Jenn Suhr could only manage third behind the woman she beat to the Olympic pole vault title, Yarisley Silva of Cuba who won with a 4.73 meters leap - well down on her world leading 4.90 set last month.
(Editing by Justin Palmer)