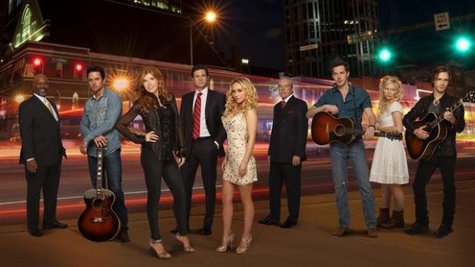 Juliette Barnes ' affair with billionaire Charlie Wentworth came to an end on Wednesday's Nashville . Even though Charlie filed for divorce from his wife, Olivia, to be with Juliette, the country star ended up breaking things off with him and told him to patch things up with his wife. The news of their affair won't be secret for long, though. Country newcomer Layla Grant called TMZ with a tip about Charlie and Juliette's affair as payback for Juliette cutting her stage time back and stealing Layla's onstage duet with her boyfriend, closeted country singer Will Lexington .
Scarlett felt like the odd-woman-out when her ex-boyfriend Gunnar , best friend Zoey and current flame Avery came to visit her on the road. Zoey wanted to tell Scarlett she was now in a relationship with Gunnar, but she didn't get the chance before Scarlett caught Gunnar and Zoey kissing outside his hotel room.
Maddie Conrad continued to grow closer to her biological father, Deacon , but the dad who raised her, Teddy , was unhappy with their burgeoning relationship. After Deacon and Maddie performed a duet of Deacon's song, "A Life That's Good," at a show in Nashville, Teddy confronted Deacon in the parking lot. The two men almost came to blows before Maddie rushed out and yelled at them to stop. Maddie's mother, Rayna Jaymes , tried to broker an agreement between Deacon and Teddy, but Teddy ended up using his powers as Nashville mayor to remove Deacon from the lineup at the upcoming Music City Music Festival.
At the beginning of Wednesday night's episode, Layla sang a love song, "Tell Me," for Will that sums up their relationship perfectly. Will runs extremely hot and cold with Layla since he's hiding his homosexuality, but she has no clue why he's distant. Aubrey Peeples plays Layla, and this song really helped her tap into that frustrated emotion.
She says, "I really like the lyric, 'With our kind of love, we always wind up tangled in the dark.'"
Aubrey recorded "Tell Me" with real-life hitmaker Ross Copperman , who has written hits for everyone from Kenny Chesney and Dierks Bentley to Keith Urban and Justin Moore . As for working in the studio with Aubrey, Ross says, "In 45 minutes we had the vocal done. She's that great of a singer."
"Tell Me" is now available for digital download.
For more about Nashville , check out On the Record at the ABC Music Lounge .
Nashville returns with an all-new episode next Wednesday night at 10 ET on ABC.
Copyright 2013 ABC News Radio