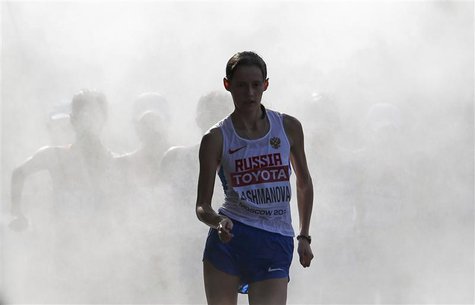 By Justin Palmer
MOSCOW (Reuters) - Olympic champion Elena Lashmanova overcame confusion over where the finish line was to lead home a Russian one-two in the women's 20-km race walk at the world championships on Tuesday.
World record holder Lashmanova, 21, secured a first world title but had only three seconds to spare at the line over team mate Anisya Kirdyapkina after twice almost breaking stride on her final lap because she did not know where the race ended.
"The judges didn't really explain to us that we should do one lap before the home straight and finish," she said.
"That's why I stopped for a second in the stadium, but I quickly understood I should keep going."
Lashmanova clocked 1:27:08 on a hot morning in the capital, getting a rousing reception as she entered the Luzhniki stadium. A fast-closing Kirdyapkina could not quite close the gap despite her younger rival's slip-up, while China's Liu Hong took bronze in 1:28:10.
Race walking superpower Russia were denied a podium sweep after Vera Sokolova, who was in third place, was shown a third yellow card and disqualified soon after entering the arena with just over one lap of the track to complete.
Russia's triple world champion Olga Kaniskina, beaten to Olympic gold by Lashmanova in London last year, pulled out of the event on the eve of the championships.
Russia also won men's 20km walk gold on Sunday when Aleksandr Ivanov triumphed.
(Reporting by Justin Palmer, editing by Alison Wildey)