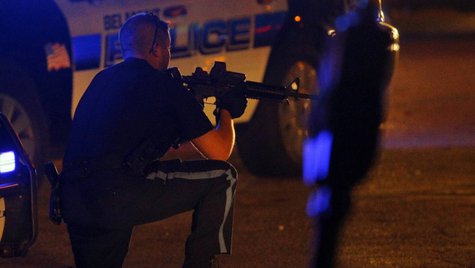 CAMBRIDGE, MA (Reuters/WSAU) - About five hours after the FBI released the pictures of the bombing suspects, a police officer was shot and killed on the campus of Massachusetts Institute of Technology, the Middlesex County District Attorney said in a statement.A short time later, police received reports of a carjacking by two men who kept their victim inside the car for about half an hour, the statement said.Police pursued that car to Watertown, where explosives were thrown from the car at police and gunfire was exchanged, the statement said."During the exchange of the gunfire, we believe that one of the suspects was struck and ultimately taken into custody. A second suspect was able to flee from that car and there is an active search going on at this point in time," Colonel Timothy Alben, superintendent of the Massachusetts State Police, told a news conference."What we are looking for right now is a suspect consistent with suspect No. 2, the white-capped individual who was involved in Monday's bombing of the Boston Marathon," Alben said.
MIT police were investigating the shooting and had issued a campus-wide emergency alert. Massachusetts State Police and Cambridge police said they were assisting in the investigation.
The shots "were reported near Building 32 ... which is currently surrounded by responding agencies," MIT said in an emergency statement warning students to "stay indoors and away from the area."
"Responding agencies continue to investigate the situation," MIT said on its website. "Police are sweeping the campus at this time, please continue to stay indoors and remain inside until further notice."