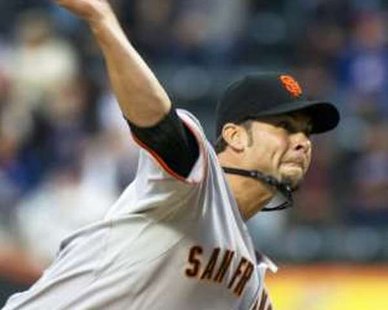 By Steve Ginsburg
DETROIT (Reuters) - Detroit's perceived advantage in pitching evaporated during the first two games of the World Series and now the Tigers find themselves facing the San Francisco Giants' hottest starter in Game Three on Saturday.
The Tigers entered the Fall Classic well-rested and were able to throw their best pitchers at the Giants early in the series and allow for a second start if the series goes long.
However, the Giants pounced on Tigers ace Justin Verlander in the opener and outlasted Doug Fister in Game Two and can take a nearly invincible 3-0 series lead with a win on Saturday.
Tigers manager Jim Leyland was philosophical about his team's chances to stop the bleeding.
"Well, I like to simplify things," he said. "I can simplify this one pretty easy. The way I look at it, we're two games back with five to play. But we're playing the team we need to catch.
"I think that's the best way to approach it."
The Giants beat the St. Louis Cardinals in seven games in the National League Championship Series and had only one day of rest before the World Series began in San Francisco. Detroit, meanwhile, swept the New York Yankees in four straight in the ALCS and had a week to rest up.
The pitching rotation did not exactly work out for the Tigers, and it could get worse because in Game Three they will face Ryan Vogelsong, who is 2-0 with a 1.42 ERA in three postseason starts.
With the series having shifted to Detroit for Game Three, Vogelsong, 35, did not think the frigid weather forecast for Comerica Park on Saturday would be much of an issue.
"The cold weather, obviously it's something we're going to have to deal with," he said. "But it's the World Series. You can't be worried about how cold it is.
"I threw a game in Chicago last year where it was 34 degrees (one degree Centigrade) and it was raining and sleeting, and I threw the ball pretty well that night.
"If I am thinking about how cold it is, it means I'm not thinking about what I'm doing on the mound."
SILENT BATS
The potent Detroit offense has just 10 hits during the opening two games of the series and Tigers catcher Alex Avila noted that the Giants' pitchers "haven't made many mistakes."
"Hitters hit mistakes, that's the bottom line," he said. "When you have opportunities with the guys on base, you've got to be able to take advantage of them. To this point in two games we haven't. That's really it. There's nothing more to it.
"There's no magical scheme that you can just flick a switch or change something, and all of a sudden you score nine runs."
Detroit will start right-hander Anibal Sanchez, who was 9-13 with a 3.86 earned run average this season having split his time between the Miami Marlins and Tigers, but in the playoffs is 1-1 with a 1.35 ERA.
"We need to forget what happened in San Francisco," he said. "I know we've got the talent. That's why we're here. We've got a pretty good team, so we're going to fight it to the end.
"We've got a long way to go, so we've got to keep working."
(Editing by Larry Fine)