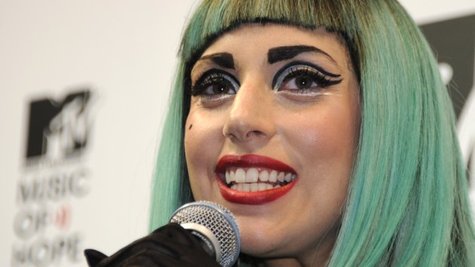 Lady Gaga's love for Bruce Springsteen is well-documented: not only does she credit him as being one of the main musical inspirations for several songs on Born This Way, but she hired his late sax player, Clarence Clemons, to perform the solo on her hit "Edge of Glory." So it's no surprise that Gaga is excited about the fact that Springsteen's new album, Wrecking Ball, is due out Tuesday.
Writing on her Twitter account, Gaga raved about Springsteen's performance on Late Night with Jimmy Fallon a couple of nights ago, and added, "Buy his new album. It is so genius its hard to even believe. Just mind-blowing passion."
Gaga's note may very well have an impact on Springsteen's album sales, since she just became the first person ever to reach 20 million followers on Twitter. According to Mashable, she hit the landmark number on Saturday. That puts her comfortably ahead of the second most-popular person on Twitter, Justin Bieber, who has 18 million followers. Katy Perry's next with 15.7 million followers.
Copyright 2012 ABC News Radio