« back to Movies
The Hornet's Nest
Release Date: None
Genres: Documentary
Cast: Mike Boettcher, Carlos Boettcher, Kalen M. Waite
Directors: David Salzberg, Christian Tureaud
Official Site: http://www.facebook.com/TheHornetsNestMovie
Distributor: Freestyle Releasing
Armed only with their cameras, Peabody and Emmy Award-Winning conflict Journalist Mike Boettcher, and his son, Carlos, provide unprecedented access into the longest war in U.S. history. Mike and Carlos are embedded with U.S. Forces fighting on the front lines in Afghanistan, amidst the constant threat of the Taliban. Their journey, "The Hornet's Nest', unfolds a true story of survival not only for the soldiers but for a father and son who seek to rekindle their relationship under the most harrowing of circumstances.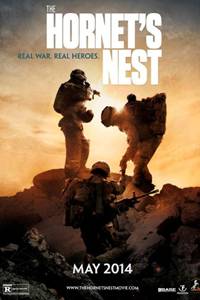 Show Times / Buy Tickets
There are no current showings for The Hornet's Nest in this area.