« back to Movies
Out of Africa
Release Date: Dec. 18, 1995
Genres: Drama, Romance
Cast: Meryl Streep, Robert Redford, Klaus Maria Brandauer, Michael Kitchen, Malick Bowens, Joseph Thiaka, Stephen Kinyanjui, Michael Gough, Suzanna Hamilton, Rachel Kempson
Directors: Sydney Pollack
Distributor: Universal Pictures
A Danish woman marries a baron whom she doesn't love and moves with him to his Kenyan coffee plantation. After enduring his womanizing behavior, she eventually kicks him out and then meets a British adventurer with whom she falls in love. Upon her return to Denmark, she becomes a famous novelist and writes about her romantic adventure.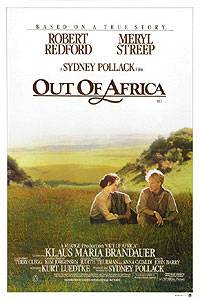 Show Times / Buy Tickets
There are no current showings for Out of Africa in this area.