« back to Movies
Saving Mr. Banks
Release Date: Dec. 20, 2013
Genres: Drama
Cast: Emma Thompson, Tom Hanks, Paul Giamatti, Jason Schwartzman, Bradley Whitford, Annie Rose Buckley, Ruth Wilson, B.J. Novak, Rachel Griffiths, Kathy Baker
Directors: John Lee Hancock
Official Site: http://movies.disney.com/saving-mr-banks/
Distributor: Walt Disney Pictures
When Walt Disney's daughters begged him to make a movie of their favorite book, P.L. Travers' "Mary Poppins," he made them a promise-one that he didn't realize would take 20 years to keep. In his quest to obtain the rights, Walt comes up against a curmudgeonly, uncompromising writer who has absolutely no intention of letting her beloved magical nanny get mauled by the Hollywood machine. But, as the books stop selling and money grows short, Travers reluctantly agrees to go to Los Angeles to hear Disney's plans for the adaptation.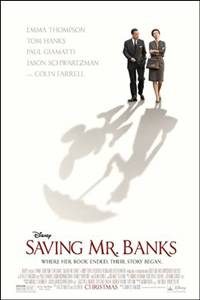 Show Times / Buy Tickets
There are no current showings for Saving Mr. Banks in this area.