« back to Movies
Save the Date
Release Date: None
Genres: Comedy, Romance
Cast: Alison Brie, Lizzy Caplan, Martin Starr, Geoffrey Arend, Mark Webber, Melonie Diaz, Timothy Busfield, Jessica Morris, Robin Riker, Elizabeth Ho
Directors: Michael Mohan
Official Site: http://www.savethedatethemovie.com
Distributor: IFC Films
After an ill-timed and very public marriage proposal, fiercely independent Sarah breaks up with her overeager boyfriend Kevin. Sarah turns to her sister Beth for support, but Beth is too busy obsessing over the details of her own wedding to Kevin's band mate, Andrew. When Sarah suddenly finds herself caught up in an intense rebound romance with the adorable Jonathan, she is forced to examine her own fears of commitment and vulnerability. With honesty, heart, and humor, all five struggle with the trials, happiness, and pain of modern love. In the end Sarah must decide - is it better to stay safely single or to risk it all on love?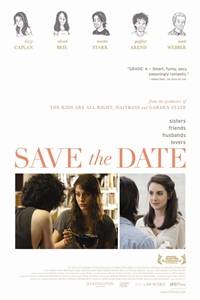 Show Times / Buy Tickets
There are no current showings for Save the Date in this area.